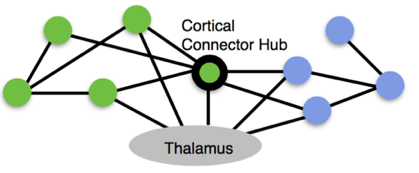 The cerebral cortex is composed of several large-scale functional networks, and the interaction between these networks (inter-network connectivity) is known to fluctuate across time and modulated by cognitive demands. We investigate if and how the thalamus modulates or mediates inter-network connectivity, and how it might contribute to cognitive control.
Specific projects include: (1) Testing the possibility of inducing downstream physiological change in the thalamus through cortical TMS stimulation. (2) Examining task-related thalamocortical connectivity during effortful, cognitively demanding behavioral paradigms that are known to induce changes in global brain connectivity patterns.


Hwang, K., Bertolero, M., Teng, A., D'Esposito, M. (2017). The thalamus mediates interactions between large-scale cortical functional networks. Organization for Human Brain Mapping. Vancouver, Canada.